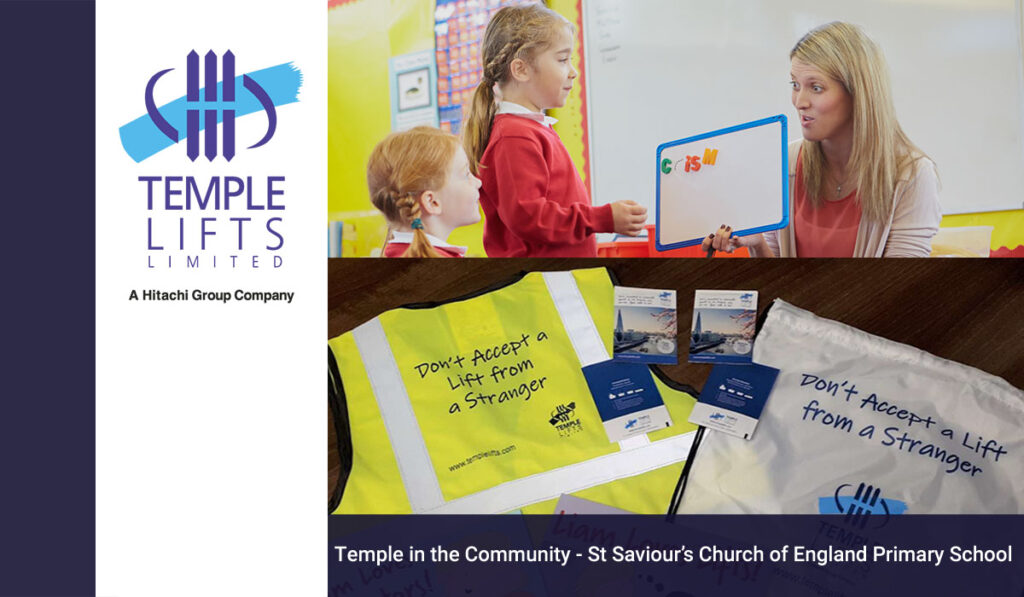 As part of our community engagement plans for 2023 and beyond, Temple Lifts along with representatives of Canary Wharf Management recently visited St Saviour's Church of England Primary School, Poplar E14. The purpose of the visit was to learn about the specific needs and requirements of the school and to help tailor initiatives that will have a meaningful impact on the students and the local community.
One of the school's needs is to improve pupils' general safety awareness, when outside of the school's premises. To help with this, the team from Temple Lifts and Canary Wharf Management will be joining the school's daily assembly on 22nd June 2023 to present some safety messages to the pupils. These will include how to travel safely on lifts and escalators.
Although not all safety-related, the Temple Team gave the school high-vis vests that had a message on the backs – 'Don't accept a lift from a stranger',
To enforce the message of "sustainable growth" Temple also provided some wildflower and forget me knot seeds for the children to plant in the school's gardens with the following message:
"We are committed to sustainable growth in our business and now you can grow with us too"
Planting flower seeds can spark children's interest in nature and the environment. This enables them to develop a greater understanding of the importance of conservation and sustainable practices.
PE boot bags were also supplied for the children.
Both Temple Lifts and Canary Wharf Management look forward to revisiting the school on the 22nd of June and hopefully again towards the end of the year to support the school with their festive celebrations.