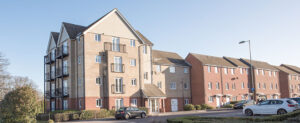 With more and more multi-storey properties being developed or acquired by housing associations, the need to have a reliable and cost-minded lift servicing company on call has never been more essential.
One of the issues of the recent lockdown and its subsequent relaxation has been the categorisation of what lift maintenance and engineer support is required for those in residential housing. This is particularly relevant for housing association tenants who may be elderly or have mobility problems and, in some cases, possibly both.
Prior to the lockdown, Temple Lifts decided to contact each of our customers that owned or managed residential properties to establish if there were any essential needs for their properties apart from emergency service, to ensure that any vulnerable residents were not confined in upper floor level flats or apartments.
With this gained information at hand along with an extensive list of frontline and essential buildings where Temple Lifts maintained the lifts, we formulated a plan to allow us to help all of our customers irrespective of region, ensuring that all of the vital lifts we maintain, would be maintained. This was and is being done following strict social distancing requirements, to protect our staff and those in the buildings we visit.
These actions and our commitment to customers has impressed many of the housing associations we work for, resulting in a significant increase in new maintenance contracts across the South West and Central of England.
Read more about our maintenance contracts.